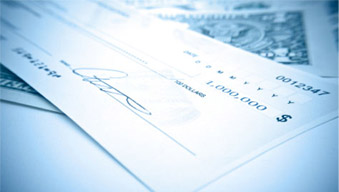 Check acceptance is a vital component of a business' revenue flow. Allowing customers to pay with checks in addition to credit cards improves customer satisfaction and is likely to increase overall sales. CardChoice International's Virtual Check solution allows merchants to process authorized ACH debits of a customer's checking account. Debits can be a one-time charge or set up as a recurring payment. In both cases check information is entered electronically using our Virtual Terminal eliminating a trip to the bank to deposit customer checks.
Benefits
Funds deposited promptly
No deposit trips to the bank
Convenient 24-hour access to online reporting
Automated recurring billing at no extra charge
No installation or upgrades required
Easy to implement
Lower processing costs than credit cards
Recurring Billing
Accepting Virtual Checks is ideal for businesses that bill customers regularly. Recurring payments can be scheduled using the Virtual Terminal to occur on a regular basis and the transaction will happen automatically on the scheduled dates. Merchants can give customers the convenience of setting up automatic payments while ensuring prompt payment, making billing and collections easier and more efficient.
A Simple Solution
Merchants utilize the  Virtual Terminal to enter and manage all customer check information. Our Virtual Terminal is a web-based solution requiring no installation or software upgrades and is an incredibly robust, secure, reliable, cost-effective solution accessible 24/7. Reporting features give a transaction snapshot or a detailed overview of processing history, and can be exported as an Excel, PDF or XPS file.
Our Virtual Check solution allows for electronic deposit of merchant funds within 3 business days improving cash flow and the ability to support multiple locations and users. It also provides customers with the peace-of-mind of safe, secure and convenient methods of check acceptance.
Get a Quote or Call 866-350-3200 for more information about accepting Virtual Checks.